My name is Kshitij Mahant. I am second year Masters student at School of Information Studies majoring in Telecommunications and Network Management. When I heard about the Haiti Project I was so sure I wanted to go for it. Many people tried to warn me about kidnapping and gunfire threats in Haiti and tried to tell me how dangerous it might be. However, I reasoned that kidnappings and other riots also happen in the most sophisticated and developed countries. In the present situation, Haiti is extremely fragile after facing lots of natural and political disasters and this is the time when they need our support and help. I am very thankful to my family for supporting me with my decision to go to Haiti and contribute towards rebuilding some of the damaged IT infrastructure at the University of Haiti.
The first visit to UEH campus was really surprising. There were very few buildings and a few temporary classroom- like open structures made from wooden sheets. Most of the times, the buildings were running on generator power. One campus had a limited number of computers and limited connectivity with only 2-3 machines connected to the internet. Some tech-savvy students used to get their own router and share the network among friends. The entire campus has a mere 2Mbps internet line and the line is usually shared by hundreds of students!  As compared to the limited, shared connection the UEH students have, I feel rather lucky to have a broadband 10Mbps line at home for personal use! However regardless of physical and technical infrastructure and resources, all the students were very enthusiastic and motivated towards education. The students were very amazed and happy that we were going to set up campus wide Wireless Internet. Many students voluntarily came and helped us install wires across building even though they had exams in the coming week. A few students asked, "How many months you will take to complete this wireless setup?" Our answer was just 2 days. The students were astonished on hearing our ambitious timeline and waited late in the night till we finished our work. They were eagerly waiting to use this newly deployed network. The sheer jubilation on faces when they got connected to Wi-Fi gave us all a proud moment worth remembering for a lifetime.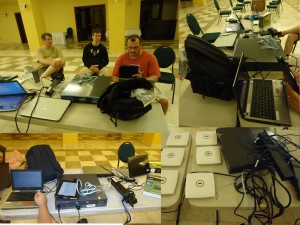 Our initial goal was to set up wireless network at one campus and at most two campuses. Tropical storm Emily and some custom issues with our equipment set us back by two days. But the whole team wanted to finish the work and keep up the promises made to UEH students and faculties. In spite of a red alert situation in city, staff members manage to complete some of the work at one of the campuses. Thanks to the wonderful and hardworking team and guidance of the staff we successfully deployed Wireless Network in 3 out of 11 Univ. of Haiti campuses. Setting up all the three campuses (Faculty of Science, Faculty of Law and Inaghei) with Wi-Fi connectivity was much more than we had targeted. The happiness and appreciation among Haiti students and faculty towards us was amazing. It felt really great after doing bit towards rebuilding the University's damaged network infrastructure.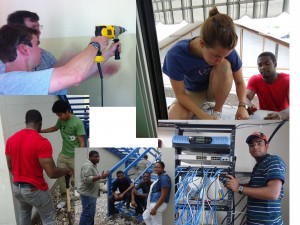 The entire team is extremely talented and hardworking. On our last day in Haiti we all worked over 14 hours without any break and having only nutria-bar and water. At the end of the day we all were covered in dirt, concrete dust, stains on clothes and blackened hands. Still nobody complained and everyone wanted to work more to help new campuses. The entire credit goes to all our staff leaders Chris, Lee, Peter and Achille who trusted us with this job, gave us freedom to figure out things on our own and implement solutions and most importantly, took very good care of us.
We also met the 6 students from Haiti who will be joining SU from fall 2011. SU is giving them complete tuition funding and also living expenses. These students were so excited and also very motivated towards joining SU.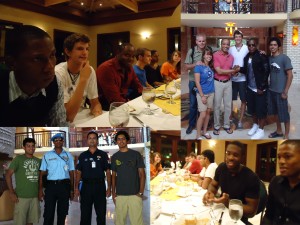 A lot of people focus on the poverty and recent calamities that have struck Haiti. The media tends to focus on how badly Haiti was affected by the quake. It may be relatively easy for people to "plan" help or fundraising efforts. A lot of people donate funds and resources to Haiti but very few people track whether the resources and help are actually reaching Haitians or whether the plans are being executed to improve their standard of life. Before this trip even I was one of these people. However, after having worked on this project to Haiti, I can proudly say, "Been there and actually done something that mattered!" We all feel proud that not only did we plan or donate things but we also went there, deployed wireless network at the university and helped students getting connected to the rest of the world.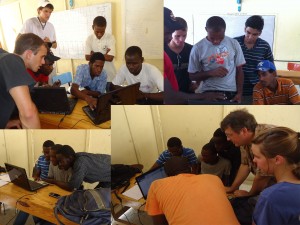 Some of the news article and our interview with News Channel 9 abc are given in following links.
Syracuse.com
http://www.syracuse.com/news/index.ssf/2011/08/syracuse_university_students_s.html
News Channel 9 abc
http://www.9wsyr.com/news/local/story/SU-students-return-from-Haiti/KK6s83j9qUa9W9zTRC-aXg.cspx
-Kshitij